February 05, 2010
Need grows for therapy caps resolution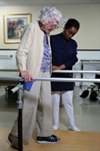 My how things change. Just a month ago a healthcare reform bill seemed en route to passage. Now its very existence is in question and, by extension, some key long-term care services are too.
I have been reminded of the precarious state of reform as the therapy caps issue has resurfaced. The Medicare Part B caps, imposing a $1,860 limit on physical and speech therapy, and a $1,860 ceiling on occupational alone, took effect at the beginning of the year. Thousands of nursing home residents are at risk of bumping up against the caps.
This, of course, would not be the case if a bill passed. The healthcare reform bills contained provisions extending an exceptions process that exempted most skilled nursing residents from the limits.
Three senators stressed the need to delay the implementation of the caps in a letter this week to Department of Health and Human Services Secretary Kathleen Sebelius.
Sens. Blanche Lincoln (D-AR), Charles Grassley (R-IA) and John Ensign (R-NV) told the secretary they are concerned that enactment of the caps "is causing undue hardship on Medicare beneficiaries, particularly for those who are recovering from a stroke or a debilitating injury such as a hip or joint fracture."
A "national provider" reported that more than 1,000 of its patients had hit the cap as of Feb. 1, and several more thousand could reach it by Feb. 28, according to the senators.
Of course, if nursing home residents exceed the caps, they could be forced to go to hospital outpatient settings, which are not subject to the cap. If that is not possible, nursing homes may have to pick up the tab. And the worst-case scenario: Residents would go without therapy.
This is troubling. It's also a reminder of the adage, don't count your chickens before they're hatched (or rehabbed, as the case may be).
That old saying certainly rings true in Washington today.