February 26, 2014
Resetting the Master Body Clock: Treatment Innovations in Non-24-Hour Disorder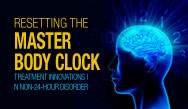 Resetting the Master Body Clock: Treatment Innovations in Non-24-Hour Disorder
This accredited activity will focus on providing an increased awareness of Non-24-Hour Disorder, and consensus recommendations for diagnosis and treatment. Two leading experts in circadian rhythm disorders will review the data, symptomatology, and treatment of this disease occurrence in the totally blind population. Presenters will provide an overview of the master body clock, and the concept of a 24- versus a non-24-hour day as a foundation for understanding the epidemiology and clinical presentation of patients with Non-24-Hour Disorder. Current and emerging treatment will be discussed. Audience members will have the opportunity to hear from a patient currently being treated for this disorder and hear directly about her journey to find a diagnosis and treatment for the issues that were severely impacting her daily functioning.
This activity is designed for sleep specialists, primary care physicians, and nurses who have an interest in enhancing their clinical skills in the management of Non-24-Hour Disorder.
This course expires October 28, 2014. To take this course, go to mycme.com. The log-in information for myCME is the same as McKnight's. Please note that you will need to complete additional registration information.