December 06, 2013
Bladder Cancer in the Elderly: Balancing Disease and Surgical Risk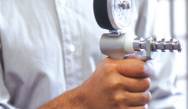 Bladder Cancer in the Elderly: Balancing Disease and Surgical Risk
Of all the newly diagnosed bladder cancer patients, 25%-30% of them will have muscle-invasive disease that ideally will require major surgery in the form of a radical cystectomy, bilateral pelvic lymphadenectomy and creation of a urinary diversion as an integral part of curative therapy. Although an invasive extirpative and reconstructive surgery, radical cystectomy is an effective therapy to treat bladder cancer, but it is associated with significant postoperative morbidity and mortality. Recent attention has been paid not only to standardizing, but also fully compiling the true perioperative risk associated with radical cystectomy and urinary diversion.
This activity has been designed to meet the needs of urologists and supporting clinicians who treat patients with bladder cancer.
Participants can earn 1 credit. The activity expires Nov. 4, 2014.
Daniel J. Canter, MD
Vice Chairman
Urologic Institute of Southeastern Pennsylvania
Department of Urology
Einstein Healthcare Network
Philadelphia, Pennsylvania
After completing the activity, the participant should be better able to:
Evaluate preoperative mechanisms for assessing surgical risk in patients with muscle-invasive bladder cancer
Examine existing objective criteria for making treatment decisions in this patient population
Relate the question of surgical frailty to stratify risk in patients with muscle-invasive bladder cancer
To take this course, go to mycme.com. The log-in information for myCME is the same as McKnight's. Please note that you will need to complete additional registration information.